Children's Bible Ministry of Connecticut, USA
A Previous Message
Mountain Jumpers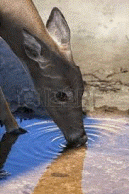 The animals of the mountains are jumpers in every sense of the word. They skip too, and not only along a mountain path, but skip meals as well. It is amazing that they can survive on so little food. The Himalayan wild ox, called a yak, for example, can live on land that has very little grass. Farm cattle would die if they
had to live on it. Bad weather often forces many mountain animals to move to valleys for a while. The ibex, which lives in the high peaks of the Gran Paradiso in Italy, must go down below the tree line in the winter to find its food.

The ibex, or wild mountain goat is master of the rocks and ravines. It can jump across a distance of 24 to 30 feet with the greatest of ease, and over a void or empty space with nothing below. The male can do it weighing around 220 pounds.
Sometimes our lives can seem like mountains and valleys. There are happy things that make us very glad. There are very sad things that make us feel very low. There are mountains of difficulties. There are big troubles and disappointments. Sometimes we can laugh; other times we cry. Sometimes we have much; sometimes we have little. Sometimes there is sickness; sometimes there is health. Life and death, marriage and divorce and separation and all kinds of things happen to us.
God wants us to be like the animals of the mountains that can get along with much or little, that can jump over problems and difficulties. There were difficult times in the days of Habakkuk the prophet. Things were not all right. Habakkuk learned to be strong in the Lord. In Habakkuk 3:18 we read ". . . I will rejoice in the LORD, I will joy in the God of my salvation. The LORD God is my strength, and he will make my feet like hinds' feet [like the feet of the wild young deer], and he will make me to walk upon mine high places."
Knowing the Lord Jesus Christ is the way to walk and run and skip and jump and soar through life successfully.
---
If I can be of help to you in knowing the Lord
or if you would like to write me a note write to: