Welcome to the home page of ...
Children's Bible Ministry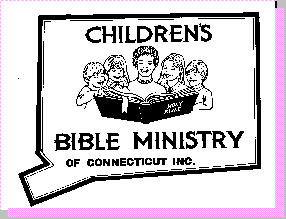 Who Are We?
We are a non-denominational, non-profit organization whose aim is to encourage boys and girls, as well as men and women, to read the Bible and thus to know the Living Lord, the Lord of Life. We do not represent any particular church or group but rather seek to be in harmony with the Word of God and the God of the Word.
Learn more about the Children's Bible Ministry
---
A Message for You!!
Each week we will have a new message that relates how God deals in our everyday activities- at school, in the neighborhood, at home, in the mall, on vacation, and everywhere. You can find a previous message under More Messages!
Here are messages that are based on Bible truths!
---
The Bible
A portion of Scripture for you to read, print or download to your computer!! This includes the 21 chapters of the Gospel of John in the King James version. Printing this document will take about 27 sheets of paper depending on your printer. You can also save the document by selecting "File" and "Save as" from the menu bar of your Web browser. The pdf is the preferred download.