Children's Bible Ministry of Connecticut, USA
Memorial
Two years before his death Mike, who lived alone, began to make preparation for his death. He bought a lot in the cemetery. Weekly he visited the

site where his mortal remains would be buried. He planted grass there and mowed it regularly. On Memorial Day, he placed flowers on the grave site, for he said, "I want to see flowers there now, I won't be able to see them when I'm gone!"
A while later Mike went into a funeral home. "I want to buy the casket which will be my new home," he said. Whenever he passed the funeral home he would go in. Standing beside the casket he would say, "That's where I'm going to live someday!"

One day Mike invited a nephew and the rest of the family to come to see him. After a hearty meal, Mike began to give some canned goods and personal belongings to his visitors. Then he handed his nephew his will. As he did this he dropped dead of heart failure!
So far as we know, Mike had made every provision for his body but none for his soul!
How sad!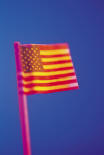 We remember with thanksgiving, those who gave their lives for our freedom. How thankful we can be that death is not the end of all things. Those who have trusted the Lord Jesus Christ as their only God and Saviour have everlasting life. Death for the believing Christian is moving to a new and better home. But death for the unbeliever means forever suffering, cut off from God and everything God is.
The Lord Jesus said, "I am the resurrection, and the life: he that believeth in me, though he were dead, yet shall he live: And whosoever liveth and believeth in me shall never die. Believest thou this?" John 11:25-26
God has no pleasure in the death of the unbeliever, but Revelation 14:13 says, "Blessed are the dead which die in the Lord. . ."
Are you prepared for death? Is Jesus Christ Who died and lives again, your only God and Saviour from sin?
from Paul Tan's Encyclopedia of 10,000 Illustrations

---
If I can be of help to you in knowing the Lord
or if you would like to write me a note write to: