Children's Bible Ministry of Connecticut, USA
Love

William Dixon lived in Brackenthwaite, England. His wife had died and also his only son. One day he saw that the house of one of his neighbors was on fire. Although the aged owner was rescued her orphaned grandson was trapped in the blaze. Mr. Dixon climbed an iron pipe on the side of the house and lowered the boy to safety. His hand that held onto the pipe was badly burned.
Shortly after the fire the grandmother died. The townspeople wondered who would care for the boy. Two volunteers appeared before the town council. One was a father who had lost his son and
wanted to adopt the orphan boy as his own. William Dixon was to speak next, but instead of saying anything, he merely held up his scarred hand. When the vote was taken, the boy was given to him.
Dear friend, I am reminded of the great love of God: How that though He was rich, He chose to leave the ivory palaces of heaven to put on a human body to give His life for us who were perishing, headed for the everlasting fires of hell.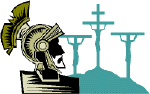 Not a glorious death did He die, but a death reserved for the worst criminals, death on the cross. He suffered the agony of hell for you and for me as He screamed out, My God, My God why has Thou forsaken Me?
But this same One has risen from the dead that He might adopt us into His family forever. He invites us to come to Him in faith, believing, and receive
forgiveness of sin and life everlasting. And what is the proof of His love? He holds up His hands--"Behold My hands!"
But God commended His love toward us
in that while we were yet sinners,
Christ died for us
Romans 5:8
Can you refuse the merciful kindness and love of God, your Saviour?
---
If I can be of help to you in knowing the Lord
or if you would like to write me a note write to:
Hear our daily 2 minute message by dialing (Connecticut) 860 344-1103.
It might be a toll call for you.